In Subvein,you can get all kinds of kickass unlocks that make you look cooler, more pro, or to make you more menacing, but, none of these are breaking the balance between a player that has them or not.
In order to get these, you have to get community credits (CC).
The unlocks range from new skins for weapons and sounds that indicate you made a triple kill, to skill tokens that let you redistribute your skill points.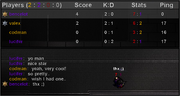 Ad blocker interference detected!
Wikia is a free-to-use site that makes money from advertising. We have a modified experience for viewers using ad blockers

Wikia is not accessible if you've made further modifications. Remove the custom ad blocker rule(s) and the page will load as expected.